Modern Stories : A Little Friend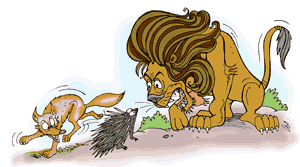 Let us enjoy reading this one of Modern Stories of A Little Friend .

That was a bad day for our Mr. Lion King. During his chase to catch a rabbit he sprang into a small bush from where he came out not with the rabbit but with a large thorn in his palm.

He cried for help. He tried his best to pull out the thorn. He shook his hand, tried to pull out the thorn with his mouth etc. but all his efforts was in vain. The thorn began to smile at Mr. Lion.

Then he asked other animals for help. But they all feared the lion. So no animals came to help him.

At last the lion approached the clever fox. The king asked, "Can you pull out the thorn please. I am suffering very much with pain."

The fox said, "I am not very expert in this task. But I have a little friend who is very expert in this work. I will surely ask him to help you. But I have some demands."

"What are your demands?" asked the king.

"It is not just food or money Your Majesty! You should allow me to give you five kicks on your back!" the fox said.

The lion king asked with surprise and anger "Do you want to kick me? Don't you know who I am?"

"I know! I know! But it is not my need to remove thorn from your palm. If you don't want I am going. Good Bye" said the fox.

"Hey! Wait! Wait!" said the lion and he began to think for a moment "I am suffering with the pain of the thorn. It has to be pulled out. Let him kick me five times. I just want to remove the thorn. After taking the thorn I will eat up his little friend."

The fox then began to kick the Lion King with his permission. One, two, three… like that. The fox called his little friend.

There comes a little porcupine. He pulled out the thorn with great ease. The pain in the palm of the lion was reduced. But his mind became filled with anger, grief and disappointment. What to say! He was very much disappointed in thinking how he can take revenge for the five kicks he got from the fox. How can he eat the porcupine with thousands of quills? At last he had to bow down before the great intelligence of the clever fox.


The Other Stories | The Short Stories
A Little Friend to HOME PAGE