Birbal Stories: Birbal Identifies Thief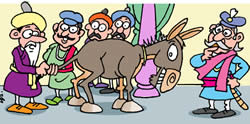 Let us enjoy reading this one of Birbal Stories of Birbal Identifies Thief.

One fine morning, a minister from Emperor Akbar's court had gathered in the assembly hall.

He informed the Emperor that all his valuables had been stolen by a thief the previous night.

Akbar was shocked to hear this because the place where that minister lived was the safest place in the kingdom.

He invited Birbal to solve the mystery. Akbar said "It is definitely not possible for an outsider to enter into the minister's house and steal the valuables. This blunder is definitely committed only by another minister of that court." Saying so, he arranged for a donkey to be tied to a pillar. He ordered all the courtiers to lift the donkey's tail and say "I have not stolen."

Birbal added "Only then we can judge the culprit." After everyone had finished, he asked the courtiers to show their palm to him. All the courtiers except Alim Khan had a black patch of paint on their palm. Birbal had actually painted the donkey's tail with a black coat of paint. In the fright, the guilty minister did not touch the donkey's tail at all. Thus Birbal once again proved his intelligence and was rewarded by the king with 1000 gold coins.
Go to The Short Stories Index
From Birbal Identifies Thief to HOME PAGE