Birbal Stories: Birbal Shortens Road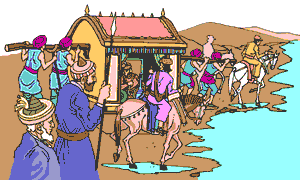 Let us enjoy reading this one of Birbal Stories of Birbal Shortens Road.

The Emperor Akbar was traveling to a distant place along with some of his courtiers. It was a hot day and the emperor was tiring of the journey.

"Can't anybody shorten this road for me?" he asked, querulously.

"I can," said Birbal.

The other courtiers looked at one another, perplexed. All of them knew there was no other path through the hilly terrain.

The road they were traveling on was the only one that could take them to their destination.

"You can shorten the road?" said the emperor. "Well, do it."

"I will," said Birbal. "Listen first to this story I have to tell."

And riding beside the emperor's palanquin, he launched upon a long and intriguing tale that held Akbar and all those listening, spellbound. Before they knew it, they had reached the end of their journey.

"We've reached?" exclaimed Akbar. "So soon!"

"Well," grinned Birbal, "you did say you wanted the road to be shortened."
Go to The Short Stories Index
From Birbal Shortens Road to HOME PAGE